CD Reviews -
Covered in Blues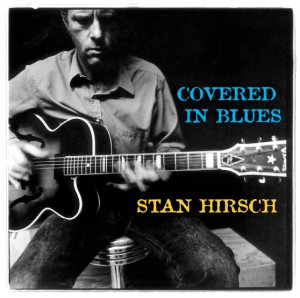 Satellite Times: By Terry Clear
Satellite Times - CD Reviews OCT. 03- Terry Clear
At last, the eagerly awaited new CD from guitar maestro Stan Hirsch - and it's been worth the wait! Covered In Blues (BFM) shows Stan's continued love affair with traditional blues, the influences of bluesmen such as Mississippi John Hurt, Lightnin' Hopkins and John Lee Hooker shining through. However, Stan has cleverly mixed in a few surprises, too, with a couple of Jimi Hendrix tracks, a Tim Rose number and .........."Amazing Grace!!" This is Stan at his very best --- solo and acoustic.
The album opens with a beautifully rendered version of Big Joe Williams' "Baby Please Don't Go," and right from the start your ears are treated to Stan's trademark guitar playing.Those who have heard his music before will know what I'm talking about --- this man makes it sound as though he's playing two guitars at the same time. No multi-tracking here!!
Following is Hendrix's "The Wind Cries Mary," and it makes you wonder if this should have maybe been an acoustic number all along, Stan's sensitive string fingering here is almost hypnotic. The version of Tim Rose's "Hey Joe" (often credited to Jimi Hendrix, as he had the big hit with it) is another track that makes you wish that Hendrix had produced an acoustic version --- at least then we could make a better comparison.
Along the way are versions of "Red House," Freddie King's "Hideaway" (another track where you'd swear there were at least two guitars playing), tracks by Lightnin' Hopkins, Reverend Gary Davis, Big Bill Broonzy ("Key To The Highway"), and some old trad blues whose composers' names are lost in the sands of time.
If I had to pick out a favourite track, and it's not easy, then I think it would have to be Willie Dixon's "I Just Wanna Make Love To You" or James Oden's "Going Down Slow"; I really can't choose between the two of them. Coincidentally, they follow one another on the CD, so maybe Stan had similar thoughts about these two superb tracks.
Criticisms? Well, just one --- the sleeve notes are sparse, and anyone new to the blues will be left wondering who wrote what. Aficionados won't have this problem, of course, but it would be nice to include the names of the songwriters. However, the pure beauty of the music itself overrides this very small criticism, and this CD will provide hours and hours of listening pleasure.
BUY IT!! (If you have trouble finding this CD, have a look at www.stanhirsch.com) (NOTE: from Stan--you will have trouble finding it cause I never signed a distribution deal on it.)
The Country Blues(Website)
Even though he is an acoustic bluesman, he often features Hendrix in his repertoire. A sensational mix of deep roots, real true blues with Hendrix-drenched acoustic guitar mastery. How can that be wrong? Rock god Hendrix was a bluesman just the same. Yet, Hirsch will satisfy Country blues purists with his covers of the traditional blues master, which he performs with his own unique style drenched in guitar artistry.
No matter what he plays he gets attention for his soulful virtuosity and mastery of a wide range of acoustic blues styles. Hirsch plays his blues with a funky, energetic essence and a harrowing sense of tension.If his CDs are not yet in your collection, or if you have a chance to see him, Stan Hirsch is all that!
by Frank Matheis
Top 100 Country Blues Favorites (1960 to today) Covered in Blues - Stan Hirsch (BFM 031)(2003)
Compiled from The Country Blues (Website)
By Frank Matheis
OK, so I'm #99---But hey--All my teachers are on there.
Muddy, Lightnin, Miss. John Hurt, John Lee Hooker, Big Bill Broonzy, Big Joe Williams, Son House, Rev. Gary Davis, etc...etc...etc...
So I'm very proud to be listed there! Thanks, Frank