CD Reviews -
Compelled to Play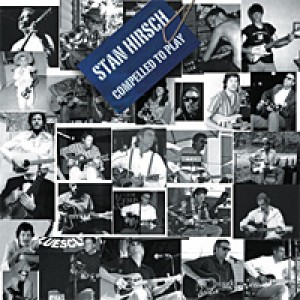 Local IQ: By Michael Henningsen (2009)
ONE TAKE BLUES
The latest album by local blues guitar legend Stan Hirsch is reflective of an artist who has seen it all, done it all and graciously passed it off to the next generation
The song choices and sequence on Compelled to Play are as captivating as Hirsch's ultra-spirited treatments and arrangements - Elvis Presley's "Mystery Train" John Lee Hooker's "Baby Please Don't Go" Robert Johnson's "Walking Blues" and Muddy Water's "Got My Mojo Working" are placed carefully among a set of highly evolved original material.
Hirsch isn't so much playing the blues here as he is channeling them. It's a rare musician who can echo and approximate the original intent of a song while making it unmistakably his or her own. Hirsch is one such artist. He growls, howls and whispers his way through Compelled's dozen tunes with brazen determination and, on first listen, an almost disquieting sense of soul baring. Hirsch sounds like he's singing in your head; you can almost see him seated, guitar balanced on his left leg, hunched over the microphone. It's intimacy to the nth degree.
With the vocals in the driver's seat here, it takes a little time to begin to absorb the subtlety and nuance that informs Hirsch's left-of-center guitar work. Working percussive thumb picking into feverish crescendos and then cascading out into careful, sinfully beautiful arpeggios is just part of the recipe: Hirsch fleshes out the songs with minor key inversions and chord figures that, for most players, never get past glimmers of what's possible with five fingers manipulating six strings. In that regard, Hirsch's guitar prowess is simply on a higher plane. But he's also supremely gifted with the ability to make virtuosity palatable to even the most casual listener.
Compelled to Play is the latest chapter in the Stan Hirsch saga, and one that begs your full attention. No slick production, no outside accompaniment except a brushed snare and finger snaps on one of his originals, and, most assuredly, no bullshit. It's Stan Hirsch at his finest - compelling enough that anyone who hears it will leave the couch for the club. --- Michael Henningsen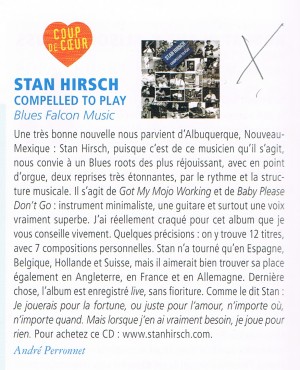 Blues Magazine: By Andre' Perronnet (France #58 (2010)
Review of CD Compelled To Play
By Andre' Perronnet (France #58 (2010)
*Red Heart Logo "Favorite"
Very good news reaches us from Albuquerque, New Mexico- Stan Hirsch, the musician we're talking about, invites us on a Blues roots with gratifying and very surprising rhythm and musical structure on two covers; Got my mojo working, and Baby please don't go. Minimalist instrumentation, a guitar and a voice especially lovely.
I was really blown away by this album and I highly recommend it. Details: there are 12 tracks with 7 original compositions.
Stan has toured Belgium, Spain, Holland and Switzerland, but would like to also find a place in England, France and Germany.
Last thing, the album was recorded "live" without embellishment. As Stan said, "I'll play for fortune, or just love- anywhere, anytime but when push comes to shove I'll play for nothing--Andre` Perronnet
Blues Matters Magazine: Issue 51-UK (2009)(England)
."...brilliant acoustic guitar virtuoso playing, it is doubtless on another level, and the vocals are well suited to the music...a mixture of his own compositions and personal arrangements of well known Blues classics."
Blues Matters Magazine-U.K. - 2009
Sonic Reducer: By Simon McCormack Alibi (7-2009)
Stan Hirsch Compelled To Play (Blue Falcon Music)Stan Hirsch doesn't need anything fancy. He can take a beat-up guitar and an amp on it's last legs and produce the best blues music in Albuquerque. The recording process for Compelled To Play consisted of Hirsch sitting down, picking up his guitar and playing. He didn't attempt multiple takes or add backing tracks-nothing that would compromise the live feel of his record. Hirsch is a beast on the guitar, acoustic or electric, and his respect for honest, unfiltered craftsmanship runs deep. Whether reinterpreting Robert Johnson or fingerpicking through one of his moody originals, Hirsch's intimate understanding of his six-stringed companion is on full display. -Simon McCormack (July 2009)
Blues Bytes:International By Terry Clear (2009)
At last, a long awaited new album, Compelled To Play (Blue Falcon Music), from Albuquerque's guitar master Stan Hirsch. Unusually, Stan Hirsch includes some good cover versions of blues standards, done in his own inimitable style, whereas most of his earlier albums were all original work. He still includes some songs of his own, but he covers "Got My Mojo Working," "Walking Blues," "Baby Please Don?t Go," "Mystery Train" and" On The Road Again."
I have to admit that I had to play this CD a few times to get a handle on what it is that Stan Hirsch is doing here- his previous CD's have been pure enjoyment based on their simplicity of good blues. I'm pleased to say that I didn't give up, and after a few plays it came through to me - this is a musician who is his own man - he can take an old standard and completely change it to his own style, without losing the flavour of the original - a bit akin to what Eric Clapton did with Robert Johnson's "Crossroads." It might take a while to get a the idea of what Stan Hirsch is trying to do, but persistence is worthwhile and you'll get a lot of pleasure from listening to this album.
I've never heard "Got My Mojo Working" done as slow as this before, and the first time I played it, I thought, "What is this?" After a couple of plays I found that the song had a whole new slant on it, and that is the same for the other covers, too - not one of them is a direct copy of the original - refreshing!
Of the original numbers, I would buy this CD for "Guilty Of Boogie" alone ? I'm fearful that I might wear out this portion of the CD.
If you haven't heard this man before, then you'll probably get the point a lot quicker - I had preconceptions from listening to earlier albums and from seeing him play live. But if you haven't heard him, then take this opportunity because here is a guitar master at work!
--- Terry Clear --Blues Bytes International
Journal Venue: Music/CD Reviews (July 2009) By David Steinberg
Stan Hirsch is a gem of a guitarist and singer. Hirsch brings so much more to the stage than soulful blues. He can strum chords as if it were a flamenco tune. He can work chord structures to make you think he's in the middle of a folk song. And he doesn't just sing; he breaths life into the music."
There are those moments in the opening cut "Got My Mojo Working", and you hear those qualities throughout his new album.
His originals are to be cherished. My favorite is the direct statement he makes in "I Thank God Everyday" (And my woman late at night) -and the good times he injects with his fullness of voice and his playing in "Guilty of Boogie".
Hirsch doesn't confine himself to performing in his own state. He just returned from an international guitar festival in Zihuatanejo,Mexico, and later this month he's off to a blues gathering in West Virginia.
Catch him while you can.
David Steinberg - Journal Venue - July 2009
Google Search: Category - Music By Ben 1976 (May 22, 2013)
Compelled to Play- the latest album from guitarist, songwriter and singer finds an album recorded as live, and is a mixture of his songs and some well chosen covers.
Many of the covers are vastly different to the originals. "Got my Mojo Working" and "Walking Blues" are recordings that sound haunting, both in the guitar motifs, that look beyond the pentatonic licks and three chords of the originals and vocals that sound both haunted and resigned. "Baby Please don't go" takes it down to basics, and growly vocals, whilst "Mystery Train" takes away the rockabilly bonhomie of Elvis's version, and replaces it with a train like acoustic guitar part, and that same haunted vocal timbre.
As well as these cover versions, the album contains many of Hirsch's original, from the playful boogie woogie stomp of "Guilty of Boogie" to "Thank God everyday (and woman late at night)" to the short vignette of "This Here Woman". The album is finished by the solo guitar instrumental of "'ovin? so Long" which contains a clean playing style with a sympathetic, self contained guitar backing.
This album will take a while to get used to. For those of us that are used to hearing "Got My mojo Working" or "Baby Please Don't Go" with drums, bass, and two guitars, or "Walking Blues" as a Slide Guitar song these are entirely different versions, but if you look past these differences, this album offers a lot of good guitar playing, good songs, and performances and it rewards repeated listening.
--Ben 1976 --Google Search