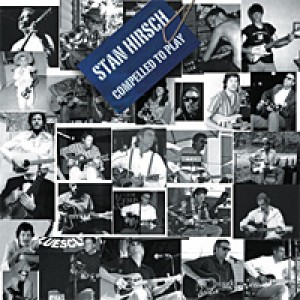 "I would buy this CD for "Guilty Of Boogie" alone - I'm fearful that I might wear out this portion of the CD. But if you haven't heard him, then take this opportunity because here is a guitar master at work!"
- Terry Clear -Blues Bytes International
"Hirsch isn't so much playing the blues here as he is channeling them. In that regard, Hirsch's guitar prowess is simply on a higher plane. But he's also supremely gifted with the ability to make virtuosity palatable to even the most casual listener. This record is decidedly Stan Hirsch the bluesman at his finest."
LOCAL IQ - July 2009- Michael Henningsen
"...brilliant acoustic guitar virtuoso playing, it is doubtless on another level, and the vocals are well suited to the music."
Blues Matters Magazine-Issue 51-UK
"Minimalist instrumentation, a guitar and a voice especially lovely. I was really blown away by this album and I highly recommend it."
BLUES MAGAZINE - France #58 - Andre Perronnet
Compelled To Play CD
This is Stan's latest "blues" album. He really tried to do a lot of different type of songs on this CD. Stretching out...pushing the boundary's a bit. Still put some trad. "Blues" in here but, also some songs that the "Blues purest" would not take to.
The blues cover tunes here are a very different interpretation than what one might expect. (As reflected in most of the reviews.) The vast majority of reviewers really enjoyed hearing something a bit different, but some had a hard time dealing with them. Actually Stan plays so many songs interpreted in such a wide variety of ways no one is ever sure what approach he will take when performing or recording. In most cases it depends on where the audience wants to go. (You can listen to his more traditional but still unique interpretations of blues standards on his "Covered in Blues" CD.)
Some of the originals here are straight forward blues and boogies--but some are pretty far out there. (I know he really enjoyed the stretching out!)
As on all his blues CD's, These are all just first takes "live" in the studio. He sits down and plays the same as on stage - just guitar and vocal. No overdubs or multi-track.
On this page you can read press reviews and listen to a few tunes. Also there is a link to the distributor.
Click for 10GuiltyOfBoogie.mp3 »
Click for 01GotMyMojoWorking.mp3 »
Click for 04BabyPleaseDontGo.mp3 »
Thank GOD Everyday (AndWomanLateAtNight).mp3 »
My Life Dont Look Like Me.mp3 »