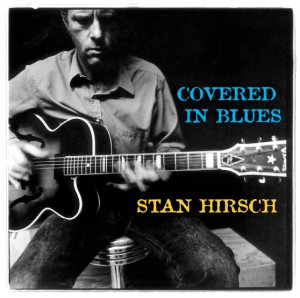 Even though he is an acoustic bluesman, he often features Hendrix in his repertoire. Yet, Hirsch will satisfy Country blues purists with his covers of the traditional blues master, which he performs with his own unique style drenched in guitar artistry. by Frank Matheis (The Country Blues.) Just got listed in the top 100 "acoustic Blues releases since 1960." A list compiled by thecountryblues.com. (Thanks Frank!)

"At last, the eagerly awaited new CD from guitar maestro Stan Hirsch - and it's been worth the wait! Covered In Blues (BFM 031) shows Stan's continued love affair with traditional blues, the influences of bluesmen such as Mississippi John Hurt, Lightnin' Hopkins and John Lee Hooker shining through. However, Stan has cleverly mixed in a few surprises, too, with a couple of Jimi Hendrix tracks, and .........."Amazing Grace!!" This is Stan at his very best --- solo and acoustic. BUY IT!!
Terry Clear, Satellite Times(Oct.03)
Covered In Blues (BFM031)(2003)
This album is all solo acoustic blues. Some of Stan's favorite blues covers! (And "bluesy" standards.) These versions were just taken from his everyday gig song list. (There are literally 100's on there!) He also threw a few Hendrix tunes in there which still sound like blues in Stan's hands.
Nothing fancy, no hi-tech studio. The acoustic guitars are not even plugged in. Just playin' and singin' into the mike. And so the sound is like sittin' on the back porch listening to him play- just acoustic guitar and vocals.
Although never signed to a distribution deal because of copyright issues (and lack of funds at that time), this CD got listed in the top 100 "Acoustic Blues Releases and Re-Releases" since 1960." (OK, so #99---But hey--All his teachers are on there on that list. Muddy, Lightnin, Miss. John Hurt, Robert Johnson, John Lee Hooker, Big Bill Broonzy, Big Joe Williams, Son House, Rev. Gary Davis, etc...etc...etc...
As on all his blues albums, these are all just first takes "live" in the studio. He sits down and plays the same as on stage - just guitar and vocal. No overdubs or multi-track. And you never know what version or interpretation of the song is going to come out. (Much less what key or tempo or lyrics.)
You can read reviews here and listen to some of the tunes.
Death Dont Have No Mercy.mp3 »
Rollin And Tumbled /Possession.mp3 »