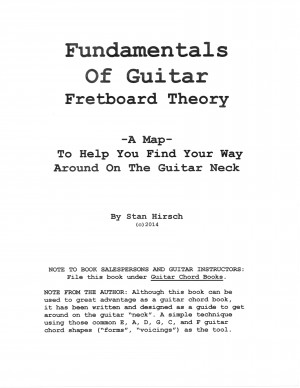 Fundamentals of Guitar Fretboard Theory (Not a "music Theory" book in the traditional sense.)
19 Apr 2014
This book draws a simple to follow map. To follow this map and truly understand your guitar fretboard (neck), all you need is a guide who possesses a clean, clear, well presented explanation of the basic E, A, D, G, C, and F chords! A map that guides you along an easy to follow path. This book does that! With just 22 pages of instruction you should be able to write your own basic chord book. (One with 100's of chords along with some very useful scales.) After 40 plus years experience as a professional guitarist - working as a player, composer, and teacher - Stan Hirsch, your guide here, has cleared that path for you. Like everything on this website you can download it for free. This is the stuff you really should know--no fat here, no frills, no colorful glossy pictures, again, just the stuff you really need to know. Please learn this stuff! It will help you with all your guitar studies. Any style - any direction - any distance you want to go. ... just read and or download the PDF.
The Music Makers Dance Lesson
This is actually a music lesson for everyone...
musicians and non-musicians alike.
But unlike all my other instruction,
this lessons is written in prose and poetry.
Like everything on this website you can download it for free.
The Blues Guitar Book Thumpin' Thumb & Fiery Fingers
This book is really about my style of Thumb/Finger(s) unaccompanied (solo) guitar playing.
The guitar technique instruction contained in the lessons, are those approaches I used to instruct myself in these techniques. The methods that worked best for me in my practice and learning. Those presented in this book have been refined and focused through years of teaching workshops and private lessons. Through feedback from my students and also, obviously, through my own playing, I have total confidence in the instruction.
It is presented as a "Blues" instruction book for a number of reasons. Firstly, since I am best known in the entertainment business as a blues music performer, most of the workshops I teach at are connected in some way with that. Secondly, the standard 12 - bar blues structure works so well as a vehicle for so many different styles and techniques. Therefore it actually teaches literally 100's of standard "Blues" songs and the related "Folk & R&R" songs based in that style.
So you do not learn a particular "song"in any given lesson, but can just add the lyrics, move a chord around here and there and eventually have 1000's. (Obtaining the "TAB" and lyrics to particular songs is so easy these days.)
This book is about training the hands and mastering the techniques.
This is a 166 page book with 69 audio tracks.
Normally on sale at Amazon.com, but the copies they have been sending out were slightly misprinted so until that printing problem is solved you can you can download the complete book here in PDF and Tracks 1 - 27 as one zip file also Tracks 28 - 69 in another zip file. (Download those zip mp3 files into a file, then you can open and play each track, or make your own CD.)
Since it is such a big book with so many audio tracks, I believe that maybe just printing out a few lessons at a time, (and listening to those related tracks) is an easier way to approach it. But? It's yours to freely study as you like.-
On the "lessons on line" section I've put up about a dozen of the lessons for easy use. It is a sort of "best of" most used lessons from this book.
Enjoy - Stan
Popular Instrumentals for solo guitar
This book is still in the making. So far I have written out three of my arrangements for solo guitar pieces. Sleepwalk, Samba Pa Ti and Pink Panther Theme. These are in standard notation and tab. They are arranged for what I call intermediate guitarists. (The level of most typical working musicians.)
So far, only Sleepwalk has a matching video. (Found on the "popular instrumentals video page.) But with any of them you can play right along with the original recording.
For now you can download the PDF for free. Enjoy. (But please realize they are copyrighted songs. Don't use them for commercial purposes!)